How to Play Squash
Squash is a game of skill, strategy and endurance. Getting started requires basic racquet skills and an understanding of the rules. The great thing for beginners is that you can practice on your own or with a partner. We've put together a list of frequently asked questions to help your understanding of the game.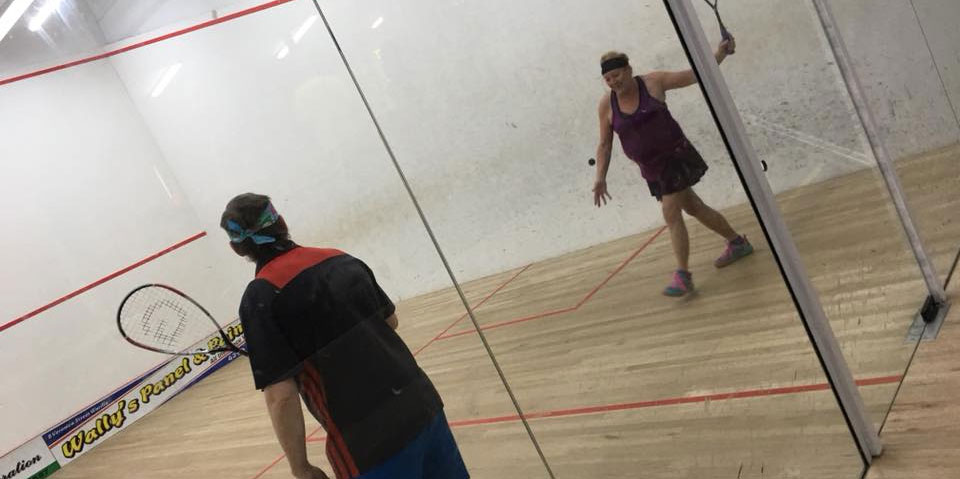 What equipment do I need?
Squash racquet, squash ball and a good pair of supportive shoes with a non-marking sole. If you're looking to purchase a new pair of squash shoes, look for "indoor court shoes" such as a volleyball or specialised squash shoe. Proper footwear will help to stabilise your balance and prevent injury when quickly changing directions on the court. It's also a great idea to have a sweatband or towel.
Which ball should I use?
Squash balls are available in a range of sizes and speeds. Beginners are encouraged to use a larger, more bouncy (or 'faster') ball, to make the game more enjoyable. As players progress their skill and ability to strike the ball, they will progress to a less bouncy ('slower') ball. The double-yellow dot is the slowest type of ball. If you're unsure which ball to use, ask your friendly club pro for some advice.
Points and scoring
Both players warm up the ball for 5 minutes, switching sides after a couple of minutes. Winning a rally awards one point. Each game normally goes to 11 or 15. To complete the game, you must win by at least 2 points (therefore, at 10-all or 14-all, play continues until someone reaches a 2-point lead). Matches are usually played the best of 3 or 5 games.
How to serve
Spin the racquet or toss a coin to decide who serves first. The server chooses a box (right or left) and must serve with at least one foot inside that box. When serving the ball, it must hit above the middle line on the front wall, and land on the opponent's side of the court, behind the middle line on the floor. The receiver is allowed to volley the return, before the ball bounces.
If the person serving wins the rally, they keep the serve and alternate service box. When the server loses a rally, they hand the serve to their opponent.
Keeping the ball in play
Hit the ball before it bounces twice. The ball must not touch the top line around the court and must not touch the tin on the front wall.
Interference
If a player is obstructed from playing a safe shot, they must call "Let" instead of hitting the ball. In a friendly game, players will usually replay the rally. In a competitive match, the referee will decide if a Let, No Let, or Stroke is awarded. More more detailed instructions about interference, please refer to the Squash Illawarra handbook. 
Joining your local squash club
Squash Illawarra has a thriving community of squash players. Each local club offers casual court hire and pennants team competitions. Many players meet up for a casual hit of a weekday afternoon, with new players encouraged to come along and join in. Approach your local club contact for more information.
Collegians Tennis & Squash Club
Lakeside Squash Club
Address
192 Kanahooka Rd, Kanahooka NSW 2530
Court Hire
(02) 4227 7602
Squash Competitions
Jan Grant: 0412 998 510
Dapto Leagues Squash Club
Address
121-123 Lakelands Dr, Dapto NSW 2530
Court Hire
(02) 4261 2872
Squash Competitions
Peter Chang: 0412 494 320
North Nowra
Address
Northy Gym Shop 18 / 1 McMahons Rd North Nowra NSW 2541
Court Hire
4421 0587
Contact
Jo Perkins: 0412 005 443
 https://northygym.com.au/ 
Click through to see the nomination form.
read more
Being held at Dapto Squash Centre on Monday 28th November 2022 at 6:30pm. All members welcome to attend.
read more